Arrow Exterminators Announces the Acquisition of Cannon Pest Control in Auburn, Alabama
Merger Establishes Footprint in thriving Auburn-Opelika market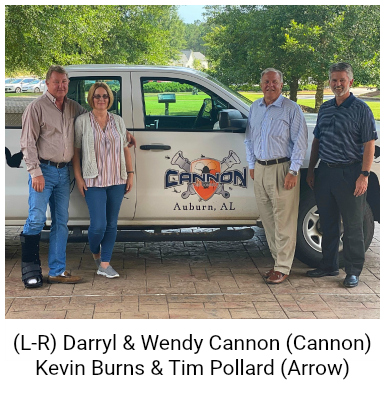 Atlanta-based Arrow Exterminators is pleased to announce the merger and acquisition of Cannon Pest Control Inc., a full-service company focused on servicing termite and pest control customers in Lee County in South Central Alabama. This transaction provides Arrow the opportunity to establish a footprint in East Central Alabama and reach residential and commercial customers with a wide range of services.
"We are so pleased to welcome the team members and customers of Cannon Pest Control to the Arrow family," said Emily Thomas Kendrick, Chief Executive Officer of Arrow Exterminators. "Their commitment to the community and passion for customer service makes Cannon a perfect strategic fit for Arrow." Kendrick added, "We will maintain the Cannon office in Auburn and operate as Stark Exterminators, giving us 10 service centers throughout the great state of Alabama."
"When we started exploring selling our business, we wanted to find a company that is passionate about how customers and team members are treated. We have always said that 'a business that values family, values customers" said owner Darryl Cannon. "In addition, we were looking for a company that would provide our team members with many growth opportunities and an expanded range of services to offer our customers." We knew we were with the right company as Arrow is obsessed about how customers and employees are treated". Wendy Cannon added "We are proud to join a fellow family-owned and operated company and be a part of the Arrow family, We wanted to give our employees great opportunities for growth and also be with a company which offers our long-time customers an full line of services."
"Cannon Pest Control is the oldest pest control company in the Auburn-Opelika market since being founded in 1994 and we are proud to have this team of professionals join the Arrow family. Alabama is an important market for us as its population continues to grow and is expected to exceed five million residents this year. We continuously look to merge with high quality companies who share our goals, principles and culture and we found the perfect fit with Cannon," stated Tim Pollard, President and Chief Operating Officer.