Arrow Exterminators Announces the Acquisition of Kelly's Pest Control in Saraland, Alabama
Merger Further Strengthens Presence in South Alabama Gulf Region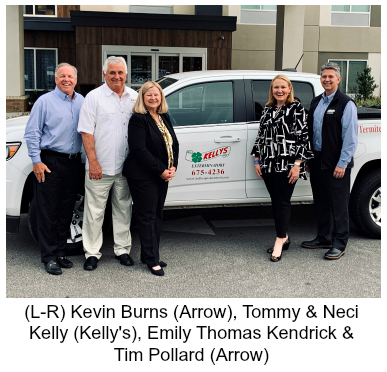 Atlanta-based Arrow Exterminators is pleased to announce the merger and acquisition of Kelly's Pest Control, a full-service company focused on servicing termite and pest control customers in Baldwin and Mobile Counties in Alabama. This transaction allows Arrow to grow and reach more residential and commercial customers with a full line of services and further strengthens Arrow's presence in the fast-growing North Mobile market.
"We are thrilled to welcome the team members and customers of Kelly's Pest Control to the Arrow family," said Emily Thomas Kendrick, Chief Executive Officer of Arrow Exterminators. "Kelly's service promise is "to care about their customers' needs and treat them with pride and care", which is perfectly aligned with Arrow and makes Kelly's a perfect fit." Kendrick went on to say, "We will maintain Kelly's main office in Saraland and also the satellite office in Citronelle and operate as Arrow Exterminators in each, giving us 9 service centers throughout the state of Alabama and further strengthening our presence along the Gulf Coast."
"When we started looking for a home for our Kelly's family, we immediately knew Arrow would be the right company as we knew they would take the best care of our team members. We reached out to Arrow exclusively and we have been very impressed with their team from our first meeting in September and in every interaction since then. We knew we were with the right company as Arrow is obsessed about how customers and employees are treated" said owner Tommy Kelly. "We can't be any happier that we are merging with Arrow and their team of professionals who truly value both family and customers." Neci Kelly added "We are proud to join a fellow family-owned and operated company and be a part of the Arrow family, We wanted to give our employees great opportunities for growth and also be with a company which offers our long-time customers an expanded range of services." "All 26 members of our employee family will continue their careers with Arrow Exterminators" added Kelly.
"Kelly's has a wonderful history of serving customers since being founded in 1953 in South Alabama. Tommy and Neci were born and raised along the Alabama Gulf Coast and are proud to have Arrow take care of their customers, many of whom they consider friends. We are proud to have this strong and experienced team of seasoned professionals join the Arrow family. We continuously look to merge with high quality companies who share our goals, principles and culture and we found the perfect fit with Kelly's," stated Tim Pollard, Senior Executive Vice President and Chief Operating Officer.