Arrow Exterminators Announces the Strategic Acquisition of Exterminating Unlimited, Inc. in Richmond, VA
Merger Represents Arrow's Entry into the Commonwealth of Virginia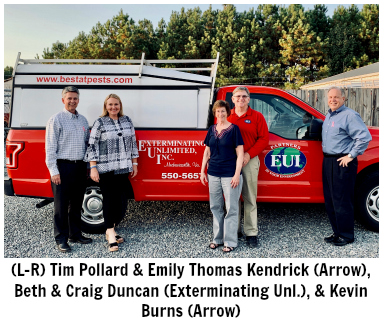 Atlanta, GA, October 2, 2019 - Atlanta-based Arrow Exterminators is pleased to announce the merger and acquisition of Exterminating Unlimited, Inc., a full-service company based in Richmond providing high-quality pest and termite control services to residents and businesses located in the Piedmont region of Virginia. This transaction represents Arrow's first location in Virginia and sets the stage for further expansion into the Commonwealth.
"We are so pleased to welcome the customers and team members of Exterminating Unlimited, Inc. to the Arrow family," said Emily Thomas Kendrick, President and Chief Executive Officer of Arrow Exterminators. "Craig and Beth Duncan are great folks who have built a great business with an excellent culture. The core values established by Craig and Beth when they founded the company in 1982 mirror those of Arrow today, so this merger is a perfect fit. Given the ideal location of the business, it is a strategic one as well."
"When looking for a home for our business, we were looking for a company that provides exemplary customer service and was passionate about how customers and team members are treated. We found that in Arrow Exterminators and are very proud to now be part of the Arrow Family," said owner Craig Duncan. "We wanted to give our team members an opportunity to be with a company where we knew there would be growth opportunities as well as be able to offer an expanded range of services to offer our customers. All of my team members will continue their careers with Arrow Exterminators."
"Established over 37 years ago, Exterminating Unlimited is very well regarded in the state of Virginia and we are proud to have this strong, experienced team of professionals join the Arrow family. Both Craig and Beth served in leadership positions in Virginia state and local associations and are highly regarded by fellow PMPs. A prime location in the state capitol is strategic to our objectives as we continue to grow. We are continuously looking to merge with high quality companies who share our goals, principles and culture and we believe we found the perfect fit with Exterminating Unlimited," stated Tim Pollard, Senior Executive Vice President and Chief Operating Officer.
Exterminating Unlimited will operate as Arrow Exterminators.
Paul Giannamore of The Potomac Company acted as advisor to Exterminating Unlimited, Inc.