Arrow Exterminators Announces the Strategic Acquisition of Lewis Cobb Pest Control Inc. in Orlando, FL
Merger Provides Strong Presence in Central Florida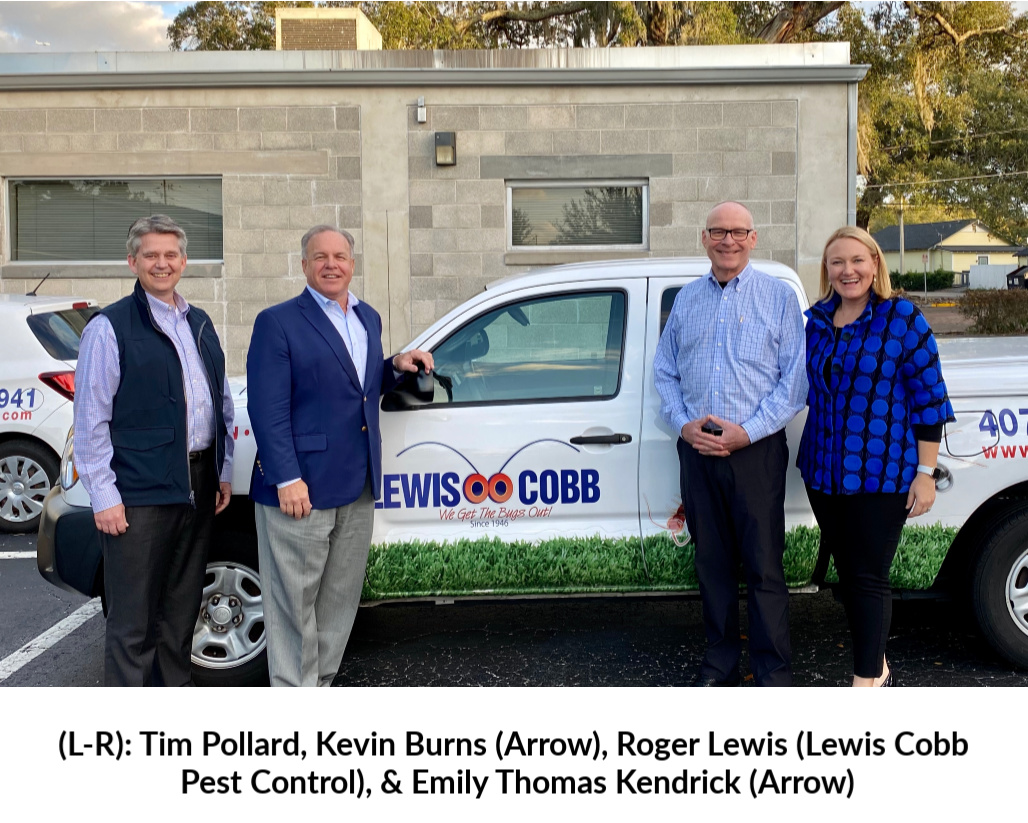 Atlanta-based Arrow Exterminators is pleased to announce the strategic merger and acquisition of Lewis Cobb Pest Control. This transaction provides Arrow a strong foundation in the state of Florida's third largest city from which to grow and will serve both residential and commercial customers throughout central Florida.
"We are really excited to welcome the customers and 20 team members of Lewis Cobb Pest Control to our Arrow family," said Emily Thomas Kendrick, President and Chief Executive Officer of Arrow Exterminators. "For nearly 75 years, President Roger Lewis along with brothers Rick and Randy and their team have been serving Orange County, central Florida and the surrounding communities with uncompromised service and we are honored to continue thatcommitment into the future. The Lewis brothers have a long legacy of leadership in the Florida Pest Management Association and the pest control industry we are proud to have such a wonderful company serve as the base for our first Orlando office."
"We are extremely happy with our selection of Arrow Exterminators as the company that will take great care of our employees and our customers and we are anxious to watch our people grow with the opportunities that Arrow brings them. I continue to be impressed with the entire Arrow team. Even though they are big, they really are a family company and their people are genuine and caring, said Roger Lewis. Taking great care of our people was foremost on our minds as we started this process and we have no doubt that we made the best decision. And to make things even better, our customers will now be offered and expanded range of services."
"Founded in 1946, Lewis Cobb is a very established and extremely well respected name in the Orlando market and we are really proud to have this strong team of professionals join the Arrow family," stated Tim Pollard, Arrow's Senior Executive Vice President and Chief Operating Officer. "Florida is a very important state to us and finding a company such as Lewis Cobb in Orlando could not have been a better fit for us. We are constantly looking to expand our geographic footprint and tirelessly work to find high-quality companies who share our goals, principles and culture."
Lewis Cobb Pest Control will complement Arrow's other 28 offices in Florida and will ultimately operate under the Stark Exterminators brand.
Greg Clendenin of The Clendenin Consulting Group acted as advisor to Lewis Cobb Pest Control.