Arrow Exterminators Celebrates Excellence at Pinnacle Club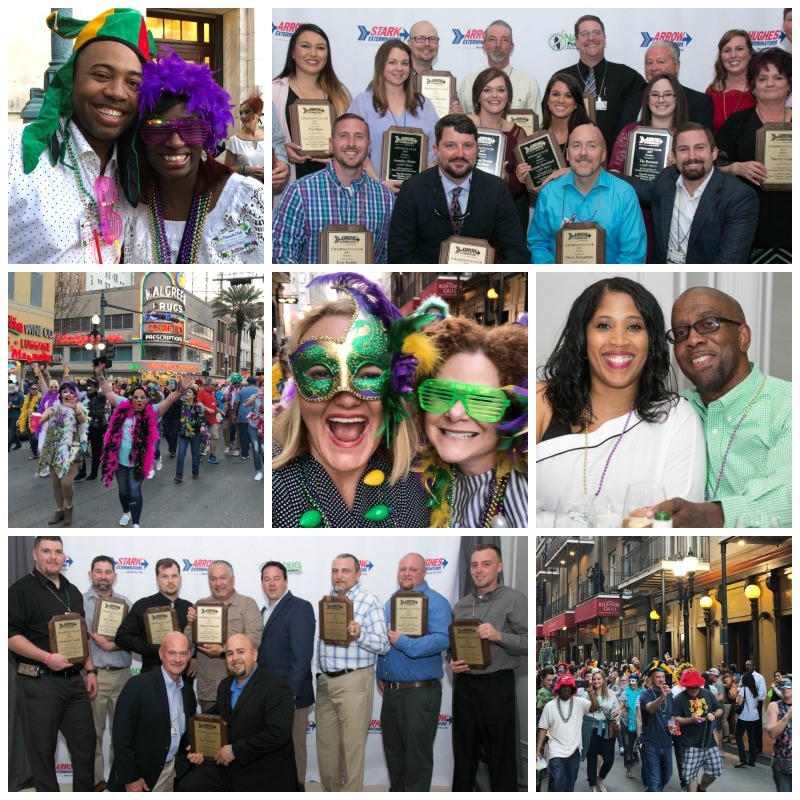 Arrow Exterminators recently held the company's annual Pinnacle Club weekend in New Orleans to recognize the company's top producing Service Professionals and Customer Care Specialists. This special achievement is earned by reaching goals set for sales and outstanding service efforts. A record-setting 175 award recipients and their guests were invited to enjoy a weekend at the luxurious Ritz Carlton Hotel and attend the Pinnacle Club Awards Banquet. Eighty-eight of the Pinnacle Club honorees also went Beyond the Call® to achieve elite Chairman's Club status. These individuals arrived a day early and were treated to a special reception and dining experience.
Arrow Exterminators concluded the weekend by taking over Canal and Bourbon Street with a special parade to celebrate achieving the milestone of $200 million in revenue. A full high school marching band led the parade which featured 500 Arrow team members dressed in festive attire, complete with a local jazz band.
"We had an amazing record-setting year and I could not be more proud of the hard working folks who qualified for Chairman's Club and Pinnacle Club," commented Emily Thomas Kendrick, Arrow's President and Chief Executive Officer. "We are so pleased to honor this outstanding group and look forward to another fantastic year ahead of us."
"Pinnacle Club is a wonderful opportunity to honor and reward our team members for their commitment and dedication," adds Joe Thomas, Chairman of the Board. "We are excited for the opportunity to give them the well-deserved thank you and celebrate their accomplishments each year."