Arrow Exterminators Named 2019 Top Workplace by the Atlanta Journal-Constitution
Family-owned Arrow Exterminators is one of 20 companies to receive prestigious award in the large business category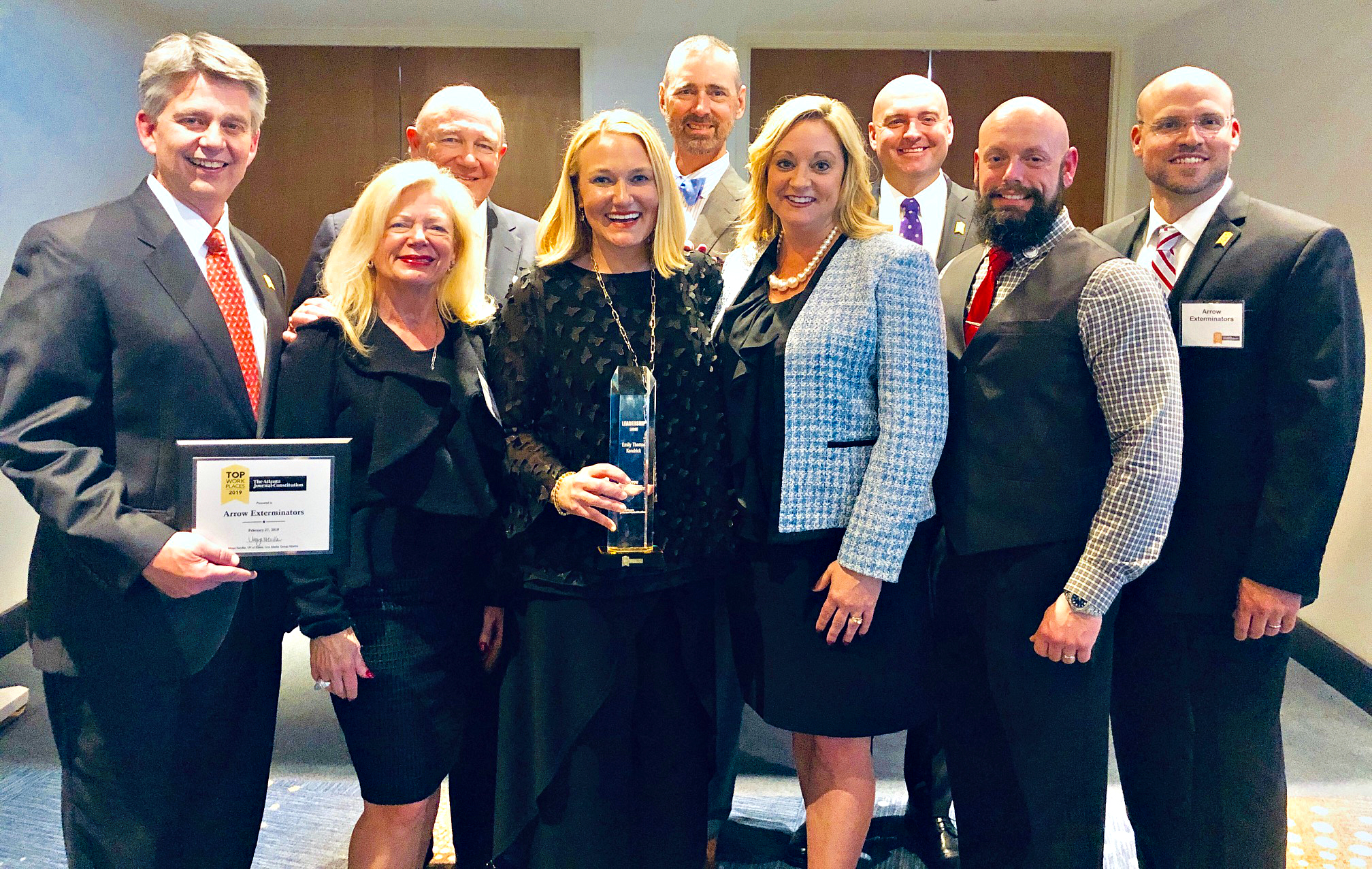 Atlanta-based Arrow Exterminators has been awarded a 2019 Top Workplace honor by the Atlanta Journal-Constitution. Not only was Arrow Exterminators named a Top Workplace, but in the Large Companies category, Arrow was named #2! The Top Workplaces Award is based solely on team member feedback gathered through a third-party survey administered by Energage LLC, a leading provider of technology-based employee engagement tools. The survey measures several aspects of a workplace culture including, alignment, execution, and connection, just to name a few.
"We are thrilled to receive this prestigious award of being named a Top Workplace in Metro Atlanta," said Emily Thomas Kendrick, President and Chief Executive Officer of Arrow Exterminators. "At Arrow, our culture is more than just generous benefits and time off policies – it is about encouraging innovation, celebrating life's big moments, volunteering with fellow team members to support local charities, recognizing people for a job well done, and providing exceptional training programs to support professional development and career advancement. Our entrepreneurial culture and our team members have been and will always be the driving force of our company and our success, and it is an absolute honor to be recognized by them for being a great place to work."
"Arrow Exterminators has a unique family-focused, entrepreneurial culture that is based on integrity and operating with transparency and a clear conscience," said Shay Runion, Chief Human Resources Officer of Arrow Exterminators. "We want to partner with like-minded team members who are also focused on growth, who share our goals and principles, and our family culture. As our vision states, we want to hire, train and retain Rock Stars and we know that the Top Workplaces distinction will help propel our recruiting efforts and further strengthen our presence in the Atlanta metro area."
Kendrick continued, "My grandparents founded Arrow Exterminators with a belief that if you treat your team members with respect and as an extension of your family this would in turn be reflected on the customer. This philosophy has carried on for the past 55 years and it has served us very well."
To celebrate this accomplishment, the entire Arrow Family will receive an additional paid floating holiday each year to enjoy a special day with family, friends or whatever they may choose. "We want to celebrate our success with all of our Arrow team members, not just here in Atlanta but the other nine states we operate in. Our 2,222 team members are what make Arrow special. They deserve it", stated Runion.