Arrow Exterminators Named 2021 Top Workplace and #1 Woman-Led Company in the United States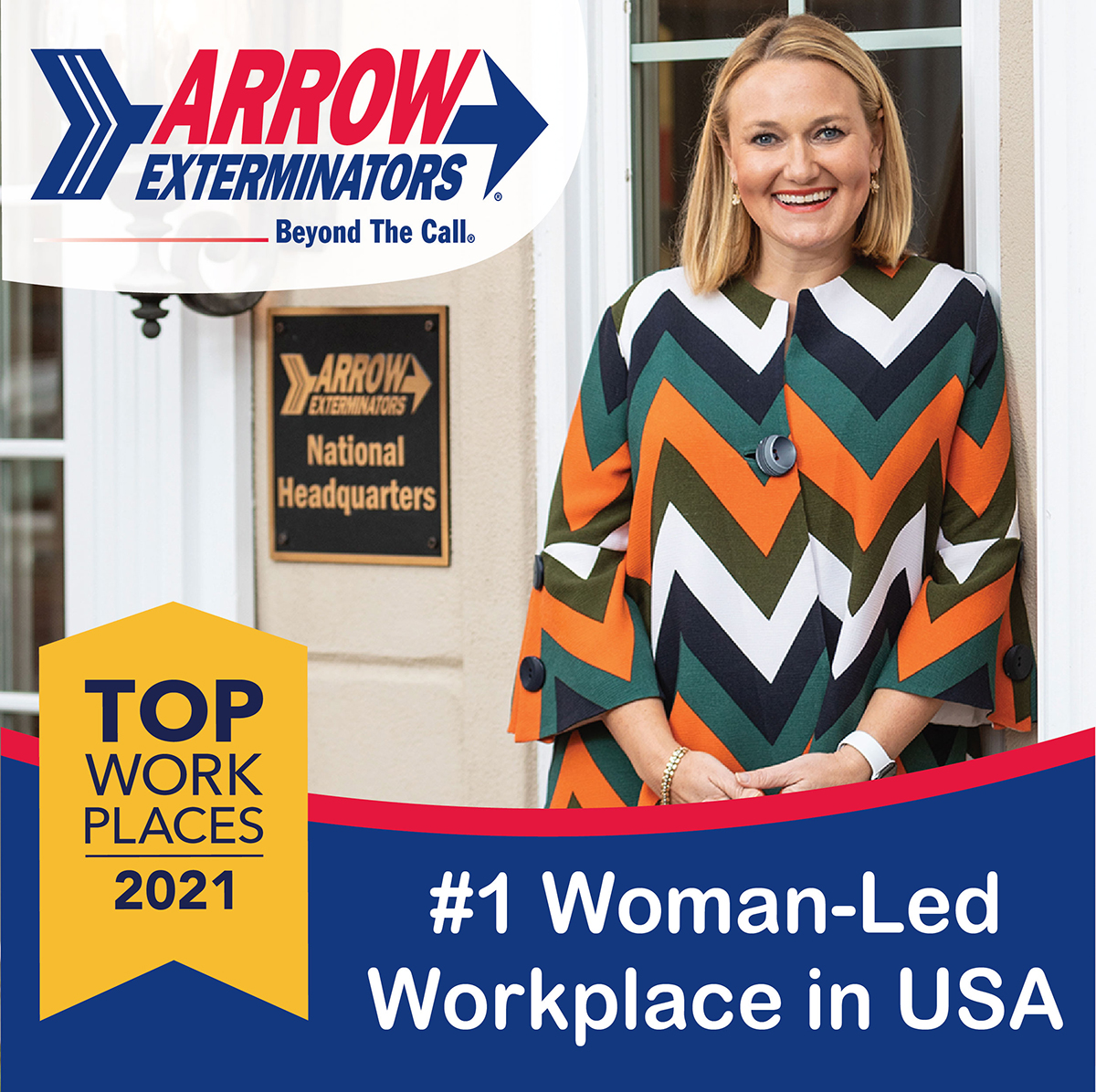 Atlanta-based Arrow Exterminators has been awarded a 2021 Top Workplace honor by Energage, a purpose-driven HR technology company, for the fourth year in a row. Not only was Arrow named a Top Workplace, but Arrow was named the #4 Top Workplace in the United States for its first ever national recognition! The Top Workplaces Award is based solely on team member feedback gathered through a third-party survey administered by Energage LLC, a leading provider of technology-based employee engagement tools. Through surveying and studying over 66,000 organizations, Energage measures several aspects of a workplace culture including, alignment, execution, and connection, just to name a few.
"We have participated in the Top Workplaces event for the past four years and we are not surprised by the impact that our team members have made to achieve this prominent feat," said Emily Thomas Kendrick, chief executive officer of Arrow Exterminators. "At Arrow, our culture is more than just generous benefits and time off policies – it is about encouraging innovation, celebrating life's big moments, volunteering with fellow team members to support local charities, recognizing people for a job well done, and providing exceptional training programs to support professional development and career advancement. Our entrepreneurial culture and our team members have been and will always be the driving force of our company and our success, and it is an absolute honor to be recognized by them for being a great place to work."
"Arrow Exterminators has a unique family-focused, entrepreneurial culture that is based on integrity and operating with transparency and a clear conscience," said Shay Runion, Chief Human Resources Officer of Arrow Exterminators. "We attribute our success to passionate, highly trained team members who are committed to protecting everyone's quality of life. As our vision states, we want to hire, train and retain Rock Stars and we know that our continued Top Workplaces distinction will help propel our recruiting efforts and further strengthen our presence on a national level."
In its local markets, Arrow placed as the #2 Top Workplace in Atlanta, GA by the Atlanta Journal-Constitution (AJC) and in Tampa, FL, the Tampa Bay Times named Hughes Exterminators, an Arrow Exterminators' Brand as a Top Workplace for the first time.
Along with being named a Top Workplace in the selected markets, Arrow's CEO Emily Thomas Kendrick received the Top Workplaces USA Woman-Led Culture Excellence Award, as well as the AJC Large Company Leadership Award. Kendrick commented, "Truly it is an honor to receive these accomplishments, but it's not just about me. It's about not only the entire leadership team at Arrow, but our 2,600 plus Rock Stars who are making it happen day in and day out. They are by far the finest and most hardworking ladies and gentlemen I know. They teach me about true servant leadership every single day and I would like to share this win with them!"
To learn more about joining Arrow's award-winning team, please visit arrowexterminators.com/careers.