Arrow Exterminators Provides Pest Proofing Tips and Infographic to Kickoff National Homeownership Month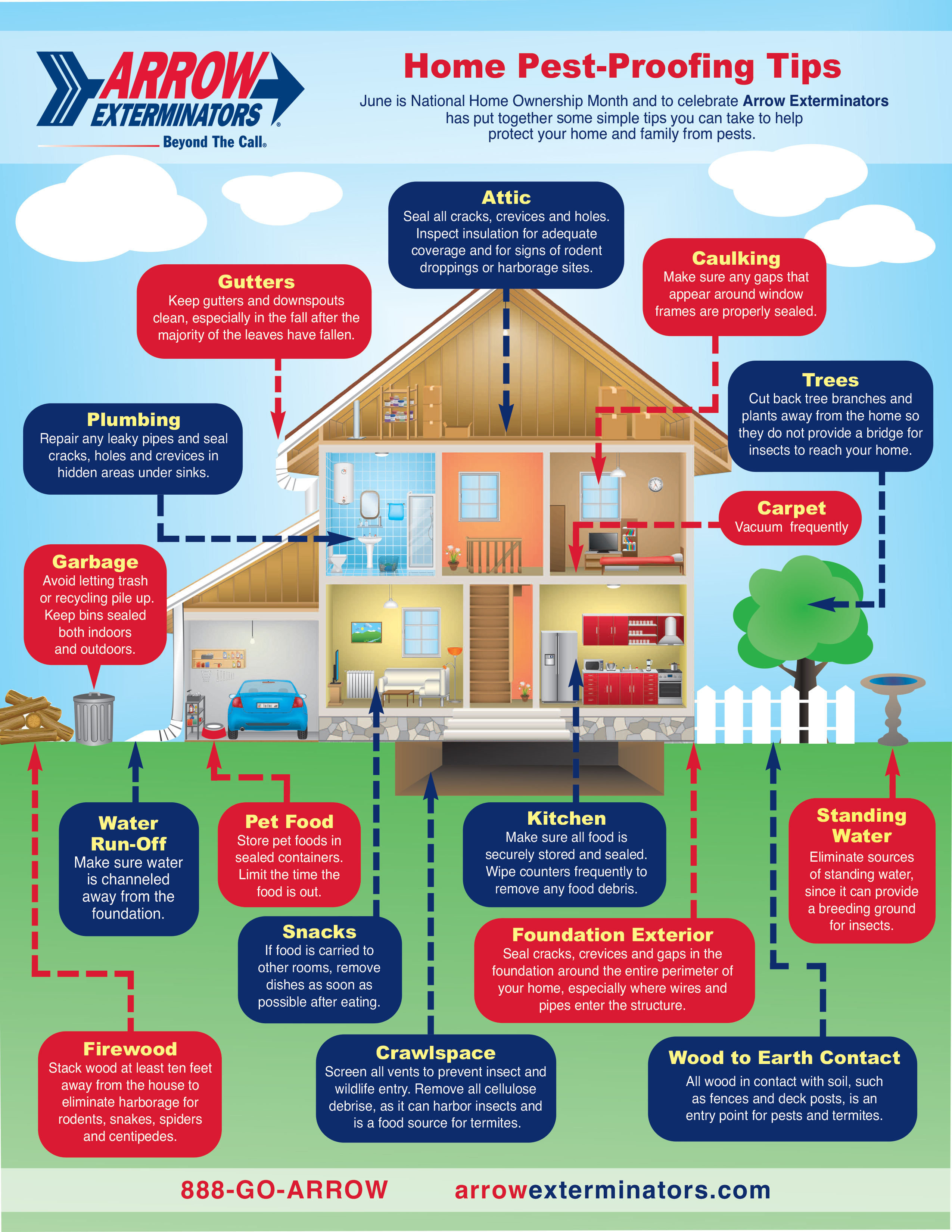 Buying a home is most likely one of the biggest financial investments most people will ever make in their life. There is no doubt that homeownership is an exciting venture, however it requires a great deal of responsibility to maintain a home and retain the value. June is National Homeownership Month and to celebrate Arrow Exterminators, a local pest and termite control company, is launching a month-long campaign to promote the importance of pest prevention and to remind homeowners of the benefits of proactively protecting their homes from pests. Arrow Exterminators has put together an infographic of simple steps homeowners can take to drastically reduce their chances of an infestation and protect their home and family.
"National Homeownership Month is the perfect time for homeowners to educate themselves on the pests that pose a property risk and learn the steps they can take to reduce chances of an infestation," said Mike Malone, Arrow Pest Expert. "Regardless, overall pest prevention is important because of the health risks and the diseases pests can carry, but we would like to spend some time this month focusing on the destructive pests that can wreak havoc on a home. Termites and wildlife intruders top the list of destructive pests because their damage can occur very quickly and can be very costly, however other pests such as carpenter ants and carpenter bees are also known to cause real structural damage.
Termites can be financially disastrous because their damage is often unseen and undetected as they penetrate the home. Termites alone cause over $5 billion in property damage every year – which is more damage than storms and fires combined. The startling fact is termite damage is rarely covered by homeowner's insurance since it is considered preventable through proper home maintenance. "We recently conducted a survey to over 2,000 adults across the United States and only 11% of respondents are concerned about termites. This was quite alarming considering the costly damage this tiny pest can do to your home," said Malone. Homeowners can prevent the chances of a termite infestation by reducing humidity in crawl spaces and eliminating moisture around foundations of the home. Additionally, homeowners should consider having their home inspected annually by a licensed professional.
Wildlife Intruders such as rats, raccoons and squirrels can cause significant property damage as they seek food and shelter inside homes. Raccoons have adept hands which allow them to tear siding and shingles as they make their way inside homes. Rodents and squirrels are known for using nesting in insulation and gnawing on wires which can lead to electrical fires. "Homeowners should seal all cracks and holes, including the roofline, around the chimney and areas where utility pipes enter the home to prevent wildlife from entering the home," suggests Malone.
Arrow protects homes from pests with the STEPS® Total Protection System™, an industry-leading approach that utilizes Integrated Pest Management (IPM). STEPS includes a full property evaluation to pinpoint pest issues; identification of not only the pest, but the true cause of the problem; and treatment in the most environmentally responsible way to alleviate current issues and to help prevent future recurrences. Consumers interested in scheduling a free pest inspection can contact Arrow at www.arrowexterminators.com or call 888-462-7769.