Arrow Exterminators Recognizes Sales Professionals and Management Team at Annual Premier Club and Circle of Diamonds trip in the Bahamas
Arrow Hosts Top Performers on Paradise Island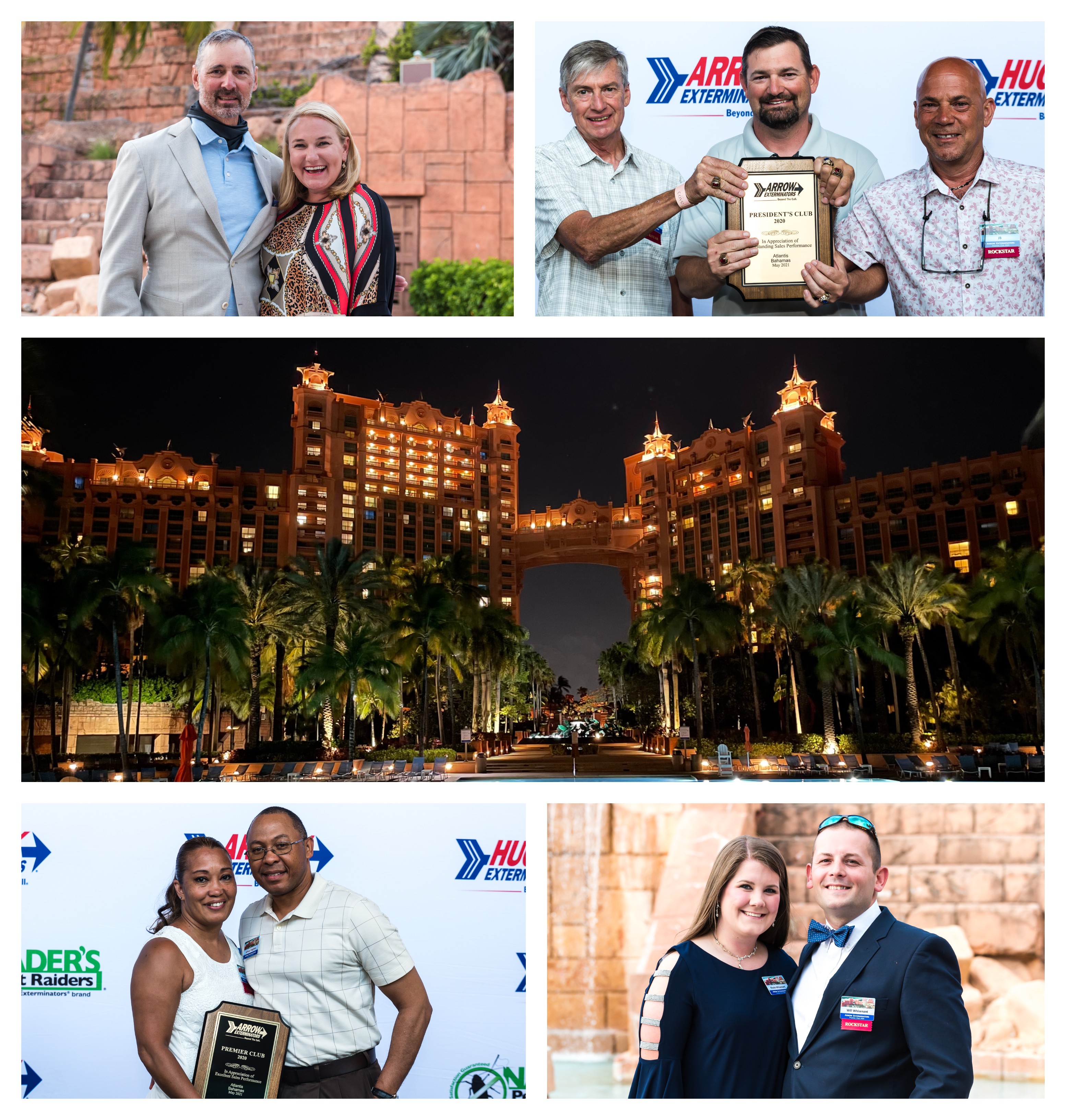 Atlanta-based Arrow Exterminators recently hosted the company's 2020 top performing sales professionals and management team members at its Premier Club and Circle of Diamonds event at the luxurious Atlantis Resort in Paradise Island, Bahamas. Due to the COVID-19 pandemic, the event was postponed from August 2020 until the end of May 2021 so attendees could safely enjoy everything that Atlantis had to offer.
The celebration started with socially distanced dinners on Wednesday evening for qualifying Management team members and President's Club achievers, an exclusive segment of the Premier Club who achieve even higher goals than their colleagues. While attendees enjoyed the beautiful beaches, exhilarating water slides, and various activities during the day, Arrow hosted outdoor, socially distanced events in the evening to celebrate and reflect on the past fiscal year's achievements.
"It was a great honor to be able to recognize Arrow's 2020 top producing sales professionals and our incredible leadership team at the Premier Club and Circle of Diamonds trip," commented Emily Thomas Kendrick, Arrow's Chief Executive Officer. "Even though this Premier Club trip was a little different from others in the past, we were still able to celebrate our team members who played a critical role in Arrow meeting and exceeding our 2019/2020 fiscal year goals."
There were certain safety measures that Arrow and its team members had to complete before entering the "bubble-like" atmosphere at the Atlantis resort. To enter the Bahamas, Arrow team members were required to have an approved Bahamas Health Visa, and either a negative COVID-19 test within five days of arrival or an official CDC vaccination card. Atlantis Resort staff were also tested every day for COVID-19 to ensure the safety of the staff and resort guests. For those guests staying more than four nights on the resort, a negative COVID-19 test was required to reenter the United States. Because of the safety measures taken by the Atlantis Resort, all Arrow team members and their guests tested negative for COVID-19 and returned home safely.
Kevin Burns, Chief Development Officer, added, "The staff and team members of the Atlantis Resort were absolutely phenomenal. They reassured us that our team members would be safe and enforced very strict social distancing policies and mask mandates so we could still experience the fun and sun that the Bahamas had to offer."