Arrow Exterminators Recognizes Sales Professionals and Management Team at Annual Premier Club & Pinnacle Club Trips
Arrow Celebrates Top Performers in Washington D.C. & Orlando, FL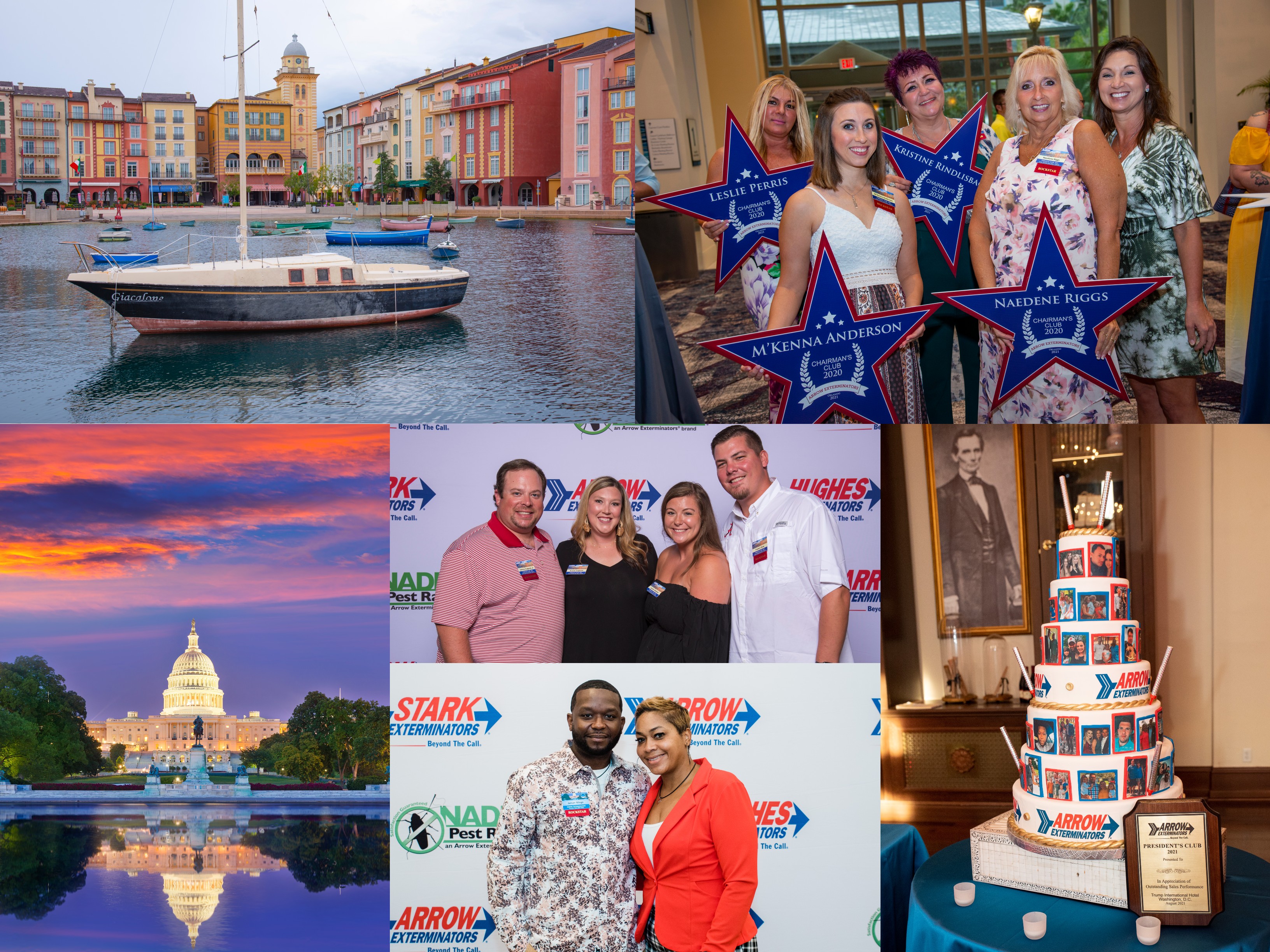 Atlanta-based Arrow Exterminators recently hosted the company's 2021 top performing sales professionals, service professionals, customer care specialists, and management team members at its annual Premier Club and Pinnacle Club events.
The 2021 Premier Club and Circle of Diamonds event was held in Washington D.C. The event kicked off with dinners on Wednesday evening for qualifying Management team members and President's Club achievers, an exclusive segment of the Premier Club who achieve even higher sales goals than their colleagues. Attendees enjoyed exploring the nation's capital during the day, and Arrow hosted a banquet on Friday evening at the Washington National Cathedral to celebrate and reflect on the past fiscal year's achievements.
"It was a great honor to be able to recognize Arrow's top producing sales professionals and our incredible leadership team at this year's Premier Club and Circle of Diamonds trip," commented Emily Thomas Kendrick, Arrow's Chief Executive Officer. "These individuals played a critical role in Arrow achieving the milestone of $300 million in revenue this year and this was a great opportunity to thank them for their hard work and commitment to excellence."
The 2021 Pinnacle Club event was held in Orlando, FL, where Arrow team members were provided the opportunity to enjoy all the city has to offer. From exhilarating theme park rides at Universal Studios, to shopping and exploring CityWalk, Orlando has many activities to enjoy. In the evening, Arrow hosted its award winners at Universal Studios' Wizarding World of Harry Potter to celebrate their achievements from the previous year.
Pinnacle Club recognizes the company's top selling Service Professionals and Customer Care Specialists. This special achievement is earned by reaching goals set for sales and outstanding service efforts. Pinnacle Club also recognizes members of our management team who achieved their safety goals for their service centers for this past fiscal year.
"I could not be prouder of each and every hard-working team member who attended our award trips this year," continued Kendrick. "We are so fortunate to have such an outstanding and determined group of individuals here at Arrow. We're just getting started, and we're looking forward to another fantastic year ahead of us!"
Joe Thomas, Chairman of the Board, continued, "We have the best sales and management team in our industry, and we are more than happy to show our appreciation for their hard work and incredible success by inviting them to these events."