Arrow Exterminators' Team Members Recognized at Georgia Pest Control Association 2020 Winter Conference
Atlanta-based Arrow Exterminators is proud to announce Director of Inside Sales Pasha Simpson and Arrow University Training Manager Brett Craig recently graduated from the Georgia Pest Control Association's (GPCA) Leadership Program. Both Simpson and Craig were recognized on stage at the 2020 GPCA Winter Conference in Athens, Georgia on January 8th, 2020.
The GPCA's Leadership Program is an opportunity for individuals in the pest control industry to come together as a group to receive leadership guidance, while also giving back to their community. Their vision and purpose are to give an outlet for leaders in the industry to foster their leadership skills.
"As an Alumni of the GPCA Leadership Program; I know firsthand that this program provides industry up and coming leaders with exceptional training," said Shay Runion, Chief HR Officer and Senior Vice President of Professional Development. "Both Pasha and Brett are leaders here at Arrow and this training will help them in their current and future roles with the organization."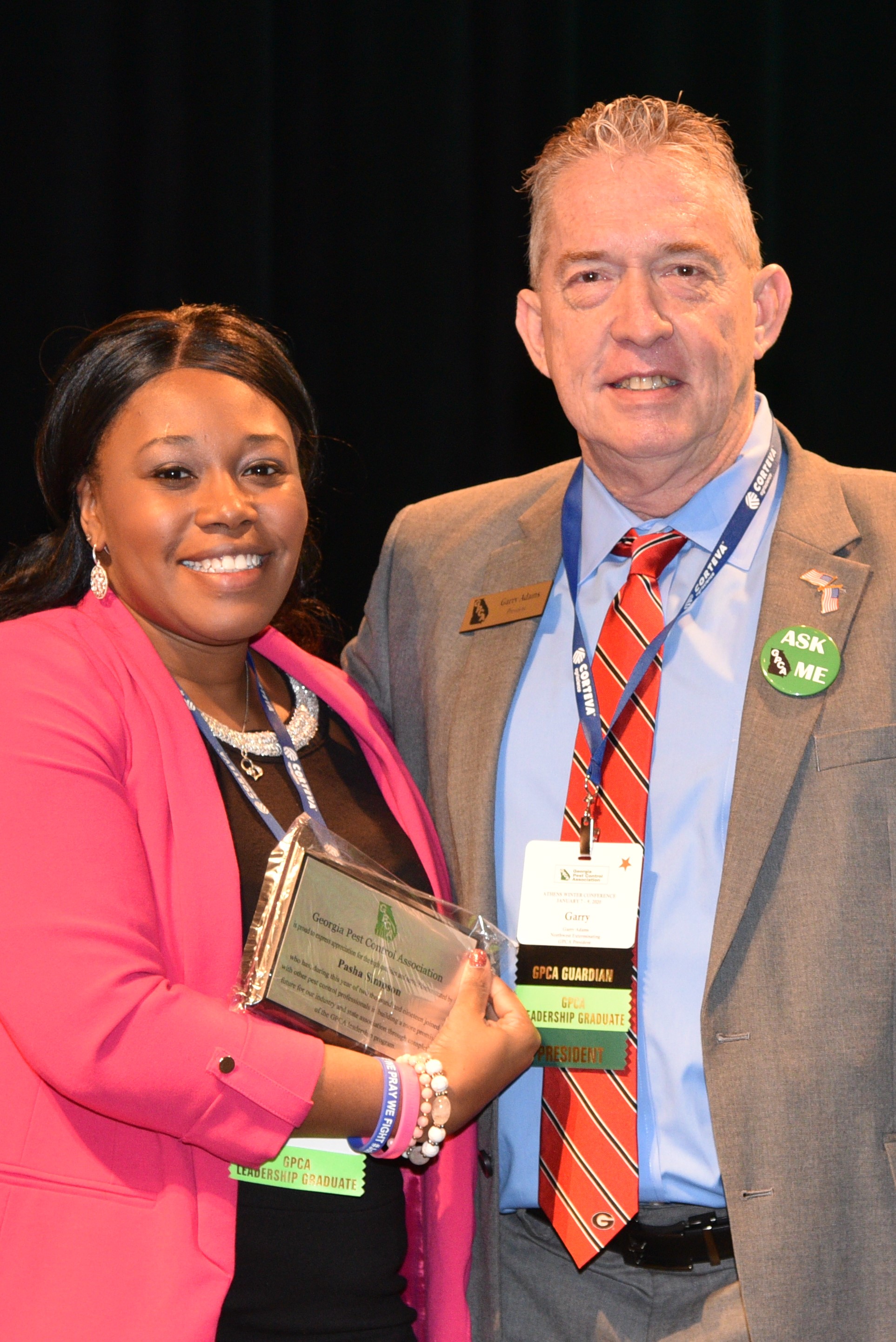 Along with this great accomplishment, Pasha Simpson was awarded with The James Allgood Jr. Leadership Award. This award was created by the GPCA to recognize outstanding leaders within the current Leadership Program class. Recipients are nominated by the leadership class who then vote for the individual who exemplifies the best leadership of the group. With this prestigious honor, Simpson will also co-chair the 2020 Leadership Program which convenes every other year.
Simpson began her career in the pest control industry almost 13 years ago in the Buckhead service center at Arrow Exterminators as a Customer Care Department team member where she used her drive and passion to meet the needs of customers. During her time with Arrow, Simpson has held many different leadership positions including Customer Care Specialist, Office Manager, Regional Inside Sales Manager, Manager of Special Ops and Director of Inside Sales.
"Congratulations to Pasha on receiving the James Allgood Jr. Leadership Award," continued Runion. "This is such an honor and we are so proud of Pasha and her leadership amongst her peers during this year's class."